Mischief Makers Local 816 is a union of creative folks whose passion is to make cool things.
Founded in 2009 in the community of Greensboro, North Carolina, Mischief Makers Local 816, LLC grew to prominence for creating the popular "home." shirts which grew into a national phenomenon. Our Brand, Home State Apparel, has 1400 retail partners located throughout all 50 states and several territories. Through the development and manufacturing of this brand we have learned many lessons on how to create and grow a multi-million dollar national apparel brand. We now bring that experience to you.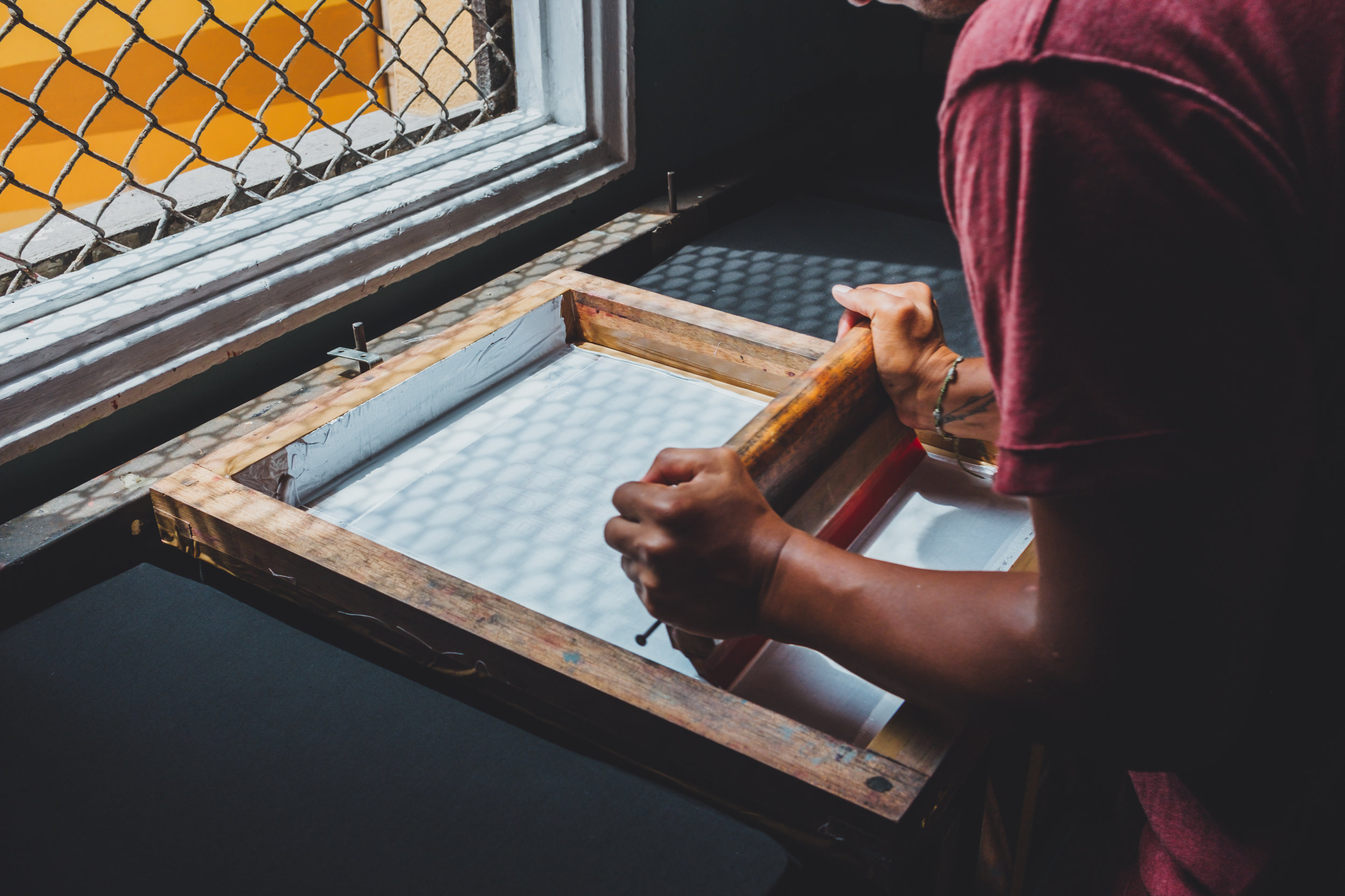 Working with a
local screen printer
Here are the most common things to consider when working with a local screen printer. More detailed information is provided below.
Artwork: You must supply your own artwork. Ideally, your artwork will be print ready, meaning it is in VECTOR format and saved as a .ai, .eps, .pdf. with all fonts converted to paths/outlines. Artwork charges are $75/hr charged in 15 minute increments if we have to manipulate your artwork to get it into one of these formats. Keep in mind that we will need to do color separation on multi-colored art, so a low-res or small jpeg is not adequate for screen printing. Often the original graphic designer will have VECTOR files of the art. (See Below for more detailed information about art files)

Gradients: Fading or shading. Screen printing is a spot color process where each color is individually printed. Thus, screen printing cannot do smooth gradients, fading or shading. Screen Printing uses Halftones to accomplish this. Not all images are suitable for screen printing. Send us your artwork and we will be happy to consult on it's viability as a screen printed product.

Minimums: The majority of the cost of screen printing is in the set up. This means that the lower the quantity of shirts, the higher the price per piece is going to be. To get a wholesale price, we suggest a minimum of 48 pieces. We will quote lower quantities on a case by case basis.

Turn-Around time: Our normal turn around time is 10-12 Business days from the date of proof approval and paid deposit.

Pricing: We provide a quote prior to every job. Pricing is based on the type of garment chosen, the number of colors in the print, the number of printing locations, and the total quantity of pieces. Anywhere from $6-$13 per piece is common for many jobs with quantities above 48.
More Detailed information about Artfiles
Digital vector artwork saved from Adobe Illustrator CS3 (or earlier) or Macromedia Freehand MX (or earlier). Convert all text to paths/outlines to eliminate the need for the fonts to be present when we open your file. Paths also make logos more stable and less likely for spacing to change between letters or words.
o PLEASE INCLUDE ALL FONTS AND IMAGES IF YOU USE THEM. DO NOT EMBED IMPORTED IMAGES. LINK ALL IMPORTED IMAGES TO THE FILE.
Digital artwork saved as a TIFF, PSD, or JPEG file from Adobe Photoshop CS3 (or earlier) or another similar pixel based graphics program:
o These images MUST be created at 300 DPI resolution at the final size you want your image to print. (i.e. if you're printing 3" x 6" stickers, the artwork should be created at that size at 300 DPI aka 900 x 1800 pixels).
o If you save a file as a JPEG, DO NOT compress it below a 9/high quality. The more you compress a JPEG the worse it will look when printed. Avoid JPEG's if you can.
o DO NOT TAKE ARTWORK FROM THE WEB. It is usually saved at 72 DPI, which will print HORRIBLY (and may also be illegal if the image does not belong to you)! Do not resize/blow up an image from 72 DPI to 300 DPI as it will still print badly (a low resolution pixel image will look even more pixelated when blown up).
o If the artwork is solid Black & White change it to Bitmap mode. Doing these things will reduce your file size enabling you to email the file to us easily.
We can accept digital artwork via e-mail (20 MB maximum). Files that are compressed as ZIP (.zip) or StuffIt (.sit) files are fine. You can also bring us your file on a thumbdrive or send via Dropbox. Let us know that you are sending artwork to us so we will know to expect it.
DETAILED TERMS AND CONDITIONS
**Terms and conditions are subject to change without notice.
Required Order Information
Custom imprint orders will not begin processing until artwork and sales orders are approved and payment terms are followed.
Payment Terms
We require a 50% down payment at the time of your order with the balance due at pick up. Purchase order #'s are required prior to processing the job. We accept cash, check and all credit cards. There is a $45.00 fee for returned checks; if the returned check was used as a deposit, orders will be postponed until payment has been made in full.
Estimates
Estimates expire in 30 days. Estimates are subject to change upon review of submitted artwork. Prices may be revised at the time of invoice based on actual prints.
Sales Orders
Once you accept our estimate it will be converted into an invoice. Your invoice will provide you with the details of your order. Invoices must be signed or approved via email before your order will begin processing.
Changes to Your Order after Payment
Once the process begins, everyone in our shop starts to work on different aspects of the job, and changes become costly and time-consuming.
Any change made to your order that is not due to a stock issue will be subject to a change/restocking fee (typically 20%). Any changes to your order after it has been placed will delay your order, including rush orders. Please be certain of your quantities, styles and garment colors prior to placing your order.
Cancellations
Cancellations made after an order has been placed, but before production begins, will be subject to a 20% restocking fee, return shipping fees to warehouse, plus any additional fees required to cover services already rendered, including artwork creation. No cancellations will be accepted once production or any decoration of the garments has begun on the order.
Artwork and Preparatory Materials
We recommend customers come with their own vector art, or work with a graphic designer on their own time to develop the art for their project, in order to ensure that your tees are printed in a timely fashion. Final print ready vector art files must be emailed, sent by dropbox, google drive, or supplied on a flash drive. The following formats are recommended: .ai, .eps, editable vector .pdf. Print ready artwork will not incur any additional fees. If art work manipulation is necessary to get art into a screen printable form, art time will be billed at a rate of $75/hr in 15 minute increments. Art files should be named in correlation with the job name and submitted with that same job name. Mischief Makers will print art files as they are received, we will assume that all images have been sized for final print dimensions.
After your order has been placed, our art department will begin working on your design. The time frame for receiving your art will vary based on the type of art file provided, the complexity of the design, and the workload of our current schedule. Once completed, you will receive an email with an art proof showing the design, as well as approximate placement on the selected garment, colors to be printed, and size of the design. We ask that you carefully review the design and check all spelling, phone numbers, and names. CHECK EVERYTHING CAREFULLY! Once you approve the design, we will not be responsible for any errors in the approved artwork or on the finished goods. Once approved, your artwork is sent into production. Each color in the design has its own screen. Our screen charges are $35 for the 1st color; $15 for each additional color.
We can offer Pantone color matching for an additional fee of $45/color. We use standard imprint sizes. For orders of mixed sizes, including youth and adult, and mixed garments, including tee shirts and hoodies, the art size will be scaled to fit on the smallest garments and billed as a single set up. If you want the artwork scaled for youth and adult sizes, or tee shirts and hoodies, additional screen set up charges will be applicable, and your order will be priced on the number of shirts in each set, not on the total quantity ordered.
We will provide one mock up on our own template in PDF format free of charge for every order. Additional mock ups on our template are available upon request and will be billed at $15 each. Approval of mock ups on our template are required regardless of how detailed client provided mock ups may be, including reorders, and must be approved by e-mail or fax prior to the order entering into production. Mischief Makers will not be held responsible for any misspellings, grammatical errors, or any other design flaw.
Imprint Size
The imprint size will be noted on the design mockup. Designs will be sized for the smallest sized garment within an order. Ex: An order contains both youth and adult sized garments that are to receive the same imprint. The imprints will be sized for the smallest youth sized garment.
Imprint Placement
The imprint placement will be specified on sales order and design mockup. Precise location will slightly differ on each garment.
Minimums Orders
The lower the quantity, the higher per piece price. We suggest a 48 piece minimum per design for screen printing and a 6 piece minimum per design for embroidery. We will consider smaller orders on a case by case basis.
Pre-Production Sample
Pre-Production Samples are available upon request but are costly due to the fact that we must set up like we would for the entire job. Our hope is that a digital mock up would suffice Pre press production samples cost $100 per color printed per location and are subject to standard turnaround time. Mischief Makers will provide blank samples at the blank cost of the item. In some cases, shipping charges may also be applicable. Payment for the samples is required prior to ordering. Samples can later be added in to your order. The cost for unused samples will not be refunded.
Order Turnaround
Most imprinted apparel orders are completed in 10-12 business days from customer deposit and both sales order and design mockup approval. This does not include company holidays, days in transit or custom art time. Customers who supply their own products please be aware that your orders may be subject to slower turnarounds if your garments do not arrive within 72 hours from placing the order. Turnaround time on larger orders (1500 pieces or more than 5 designs) may require longer time to produce. Please inquire about our current turn time on larger orders.
Rush Orders
We do accept rush orders when we are capable of producing them for a 5% Rush Fee. Please ask a sales associate before assuming we can provide you with this service. You may not cancel a rush order once your order is placed.
Returns / Refunds
Defective items may be returned for a full refund within 72 hours from receiving them. Ex: Customers garment has a stain from garment factory on it. This does not include defective or misprinted items supplied by customers. All returns and refunds must be approved by management.
Shipping
We ship all orders UPS Ground unless rush services or customer pick-up is preferred. Customers are responsible for the cost of shipping. Shipping prices will be determined on day of order completion and will be added to the order invoice.
Satisfaction Clause
We go to great lengths to ensure that every order that leaves our facility is correct. We value all of our customers and will gladly work to meet your expectations. Any order printed differently than the mock-up approved will be granted a reprint of the defective product. All claims must be submitted within 72 hours of date of delivery. Please call or email peggy@homestateapparel.com to submit your issue. We do not offer refunds, but will gladly reprint any production errors. If the error was made by the customer, a wrong phone number was provided for example, and the artwork was approved, the cost of reprinting the job is the responsibility of the customer. We will require that you return the misprinted shirts back to our shop (if goods were shipped a UPS label will be provided). Mischief Makers will not be responsible for any shirts sold or given away prior to returning the order.